We're Getting Mutants in the MCU - The Loop
Play Sound
Black Receivers are black rods that function as demodulators for high-frequency chakra signals.[11] Users are able to create and transmit their chakra into these receivers for a variety of purposes.
Origin
Black receivers are said to be a trademark of the Rinnegan.[1] Wielders of the dōjutsu are able to generate the rods from their own bodies, usually from the palms of their hands.[12] However, there have been several instances in which black rods were produced through other means:
Usage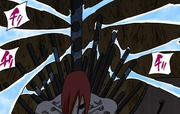 Black receivers are formed out of chakra,[20] which takes on a consistency similar to metal. They are durable enough to break steel scalpels,[21] as well as sharp enough to pierce through human bodies with ease.[22] Though durable, the rods can still be destroyed when struck with sufficient force,[23] and their creator is able to break them apart without any apparent difficulty.[24] Once formed, the user can transmit chakra to these receivers from across vast distances, though for best results, they must be nearby and at a high elevation.[25] Though chakra being sent to these receivers can be sensed, a skilled user can prevent their location from being discovered by constantly changing the frequency of their chakra.[26] Offensively employing receivers from afar carries a risk, as those with sensing capabilities can trace the transmitted chakra back to the user when pierced with one.[27] When receiving chakra, the black rods noticeably heat up.[11]
| | |
| --- | --- |
| | |
By stabbing an opponent with the rods, the user can transmit their chakra into the target's body, disrupting their own chakra and throwing off their movements.[28][29] The user can fully immobilise the target by stabbing them with multiple rods,[24] as well as prevent them from moulding additional chakra by piercing their tenketsu.[8] Provided the user is close enough, they can potentially control the target's movements, though this can be resisted if the target's own chakra is powerful enough.[30] Aside from being stabbed, simply touching the receivers can apparently also incur negative effects,[8] though Rinnegan wielders are seemingly immune.[31]
Chakra receivers are also used to control the Six Paths of Pain: six reanimated corpses that possess copies of the Rinnegan, granting them a shared field of vision with their creator. Nagato controlled his Six Paths of Pain using numerous receivers fashioned into piercings, which were implanted all about their bodies,[32] whereas Obito had a single rod implanted in each body's chest.[33] Among other Rinnegan abilities, the bodies are capable of producing additional rods to serve as weapons.[34] As they are controlled by the user's chakra, opponents can prevent these bodies from moving by removing all of their receivers.[35] The receivers implanted in Obito's Six Paths of Pain doubled as a means of temporarily binding the chakra of the tailed beasts sealed inside the Demonic Statue to their bodies, making them into jinchūriki.[36] When they entered Tailed Beast Mode, the receivers would relocate from the jinchūriki's chests up to the tailed beasts' necks.[37] The creatures Nagato summoned through the Animal Path were also embedded with numerous receivers, suggesting he controlled them in a similar manner.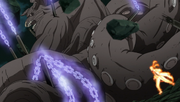 When employed offensively, the black rods make for effective weapons. They can emerge from the user's hand to stab opponents,[38] be broken off and wielded like swords,[39] or be launched as high-speed projectiles,[40] and the size and shape of the generated receivers can be adjusted to fit the situation.[22] Obito is shown employing black receivers fashioned into giant stakes as projectiles, ejecting them from Kamui's dimension to pierce and pin targets.[41] He can also manifest chakra chains to bind those touching the receivers with an even greater binding power.[42] In the anime, the user can also apply shape transformation to the rods after launching them, altering them into more elaborate forms.[43]
Black receivers disintegrate when their creator is killed or similarly incapacitated, alongside any Truth-Seeking Balls they may possess.[44][40]
Trivia
References