Boruto: Naruto Next Generations (BORUTO -ボルト- -NARUTO NEXT GENERATIONS-, Boruto: Naruto Nekusuto Jenerēshonzu) is a monthly manga series written by Ukyō Kodachi and illustrated by Mikio Ikemoto, which is supervised by original manga creator Masashi Kishimoto, who also defines every concept and initial idea. The series serves as the official continuation of the Naruto franchise.[1] It adapts the story-line of Boruto: Naruto the Movie and then continues the story afterward. The manga launched on May 9, 2016, in the 23rd issue of Weekly Shōnen Jump, and is simultaneously published in Weekly Shonen Jump digital magazine in English. The serialisation of the manga was transferred to V Jump on July, 2019.
Manga
So far, there are four arcs in the manga:
SD Version
Similar to Rock Lee's Springtime of Youth Full Power Ninja Chronicles, there is also an "SD" version of the Boruto manga, titled Boruto: Saikyo Dash Generations.
Anime
In December 2016, it was announced at the annual Jump Festa that an original anime would begin to air in April 5, 2017.[2] The English dubbed premiered September 29, 2018 in the United States on Adult Swim. Kodachi, who supervises the screenwriters of the anime, is responsible for the screenplay of the anime. As such, the several screenwriters submit their stories to him, with Kodachi monitoring everything in the event a scene could dramatically change the characterisation of a character.
So far, there are thirteen arcs in the anime:
Novels
Parts of the anime are also being adapted into a novel series titled Boruto: Naruto Next Generations Novel (BORUTO -ボルト- -NARUTO NEXT GENERATIONS- NOVEL, Boruto: Naruto Nekusuto Jenerēshonzu Noberu). The first novel was released on May 2, 2017, and covers episodes 1 to 6. The second novel was released on July 4, a third novel was released on September 4, and the fourth novel in November 2017. The fifth novel was released on January 4, 2018.
Novel 1: The New Leaves Soaring Through the Blue Sky! (

青天を翔る新たな木の葉たち!

, Seiten o Kakeru Aratana Konoha-tachi!)
Novel 2: A Call from the Shadows! (

影からの呼び声!

, Kage Kara no Yobigoe!)
Novel 3: Those Who Illuminate the Night of Shinobi! (

忍の夜を照らす者!

, Shinobi no Yoru o Terasu Mono!)
Novel 4: School Trip Bloodwind Records (

修学旅行血風録

, Shūgakuryokō Keppūroku)
Novel 5: The Last Day at the Ninja Academy! (

忍者学校最後の日!

, Akademī Saigo no Hi!)
Timeline
The current timeline of the Boruto: Naruto Next Generations novels.[3]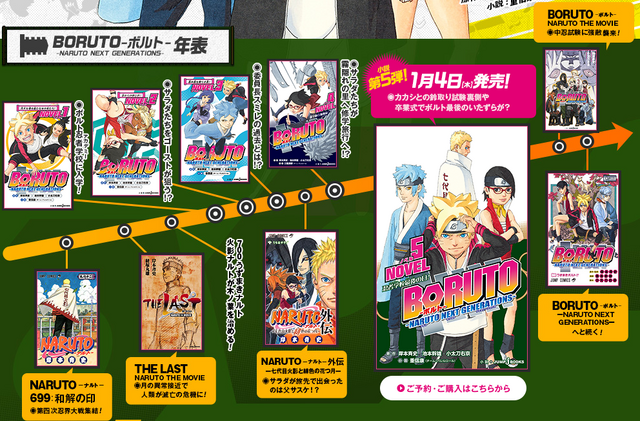 References