The ultimate ability of the Mangekyō Sharingan,[2] it is the final form of Susanoo, which can only be unleashed when the wielder learns to fully stabilize the constructs' form.
Appearance
All Complete Body — Susanoo have several consistent features that are apparent in all users. These features include the tengu mask with the jewel on the top of the forehead, the samurai-like armor, and the set of second arms on the back of technique. Going further, the user can also turn the second set of arms into a set of full wings, enabling flight. Finally, the Complete Body - Susanoo is tremendous, dwarfing all previous forms of Susanoo and standing as tall as some mountains, or even as big as the Ten-Tails itself. All Complete Body — Susanoo also possess a set of Susanoo Swords, which are gigantic katanas. At the same time, akin to how each Mangekyō eye has a different design, each Complete Body — Susanoo has unique features including different colouring of their entirety and the design of their mask.
Usage
The Complete Body — Susanoo is a tremendously powerful technique, comparable in power to a Tailed Beast; it is able to easily slice through entire mountains with a single swipe of its sword. Some versions have the ability to fly, giving it great versatility. When enhanced by Six Paths Chakra, Complete Body — Susanoo becomes powerful enough to destroy multiple Chibaku Tensei.
As the ultimate evolution of the Susanoo, Complete Body — Susanoo can take a tremendous amount of punishment before failing. When combined with the Rinnegan, it can block out even the light of the Infinite Tsukuyomi. Only the strongest techniques, such as Top Transformed Buddha, Eighty Gods Vacuum Attack, or Six Paths Chakra enhanced Tailed Beast Balls have been able to damage or destroy the technique.
Tailed Beast Containment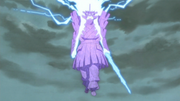 As Sasuke Uchiha showed, the Complete Body — Susanoo can be used to contain the chakra of all nine Tailed Beasts, tremendously increasing the technique's power. Kurama compared the process to using the Complete Body — Susanoo like the Demonic Statue of the Outer Path.[3] It gained new weapons in this form, notably Lightning Release arrows and senbon that were strong enough to counter Tailed Beast Balls, with the strongest technique being Indra's Arrow. With it, he's able to overwhelm Naruto Uzumaki's Six Paths Sage Mode Tailed Beast Form, forcing him to gather tremendous amounts of Natural Energy to counter due to prior exhaustion.[4]
References