Spider-Man: No Way Home Trailer Dropped - The Loop
Play Sound
This is the article on the genjutsu. For the dōjutsu, head to Sharingan.
Genjutsu: Sharingan broadly refers to a range of genjutsu performed with the Sharingan. It has also been shown to be performed through the Sharingan's higher evolutions: the Mangekyō Sharingan and the Rinnegan.
Usage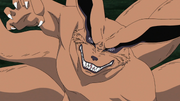 By establishing eye contact with a target, the Sharingan user traps them within a genjutsu which can be exploited for one of various purposes, such as: causing instantaneous — but temporary — loss of consciousness or paralysis in the target,[2][3] forceful extraction of information,[4][5] relaying memories,[6] erasing memories,[7] removing genjutsu placed on the target by others,[8] and controlling a target's actions.[9][10]
Members of the Uchiha clan are particularly famous for using their Sharingan to control the Nine-Tails, so much so that Konoha quickly came to suspect Uchiha involvement in the Nine-Tailed Demon Fox's Attack.[11] Sasuke Uchiha is noted to be able to use the technique through his Rinnegan, to trap all the tailed beasts in a genjutsu with a mere glance.[12]
The illusions created by Genjutsu: Sharingan do not appear to have any trademark form, appearing vastly different between the same functions and even the same users. For example, Sasuke typically uses it to render targets unconscious, yet on the first occasion the target's body is pierced with large feathers,[13] on another, the target is grasped and overwhelmed by a shadowy figure,[14] and on the third the target experiences Sasuke personally stabbing them.[15]
Trivia
References