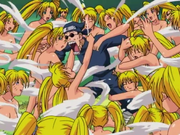 Name: Harem Technique (ハーレムの術, Hāremu no Jutsu, Viz "Ninja Harem"; English TV "Harem Jutsu")
Type: A-rank, Supplementary
Users: Naruto Uzumaki
Hand Seals: Ram, Snake, Tiger, Ram
Debut (Anime): Episode 2
Debut (Manga): Chapter 2
This jutsu combines the Shadow Clone Technique and the Sexy Technique to create multiple of clones of a beautiful, nude woman (or in a bathing suit, as in some filler episodes and video games). It was first seen in chapter 2 of the manga. Naruto uses a modified form of this technique in episode 193 when he transforms into dozens of clones of Sakura (still clothed) in order to confuse Rock Lee.