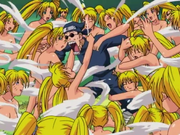 Name: Harem Technique (

ハーレムの術

, Hāremu no Jutsu, Viz: Ninja Harem, English TV: Harem Jutsu)
Type: A-rank, Supplementary
Users: Naruto Uzumaki
Hand Seals: Ram, Snake, Tiger, Ram
Debut (Anime): Episode 2
Debut (Manga): Chapter 2
This jutsu combines the Shadow Clone Technique and the Sexy Technique to create multiple of clones of a beautiful, nude woman (or in a bathing suit, as in some filler episodes and video games). Naruto uses a modified form of this technique in episode 193 when he transforms into dozens of clones of Sakura (still clothed) in order to confuse Rock Lee.
In episode 177 (Please Mr. Postman), Naruto demonstrates two variants of this jutsu, one called the Sexy Harem Jutsu: Ultimate Steam Bath version to "inspire" Jiraiya into finishing the latest issue of his book, and Sexy Harem Jutsu: Swimsuit Edition in order to try to prevent the courier ninja from delivering the manuscript to the lord of the Land of Fangs.