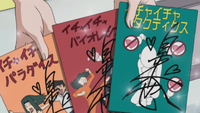 Icha Icha (イチャイチャ, English TV: Make Out) is a series of adult novels written by Jiraiya after the commercial failure of The Tale of the Utterly Gutsy Shinobi.[1] The Icha Icha novels are based on Jiraiya's experiences in love, particularly his rejections by Tsunade.[2] When he's working on a new novel, he gathers "research" by peeping on women while they bathe.[3] Icha Icha is wildly popular, giving Jiraiya's checkbook a balance that is "filled with zeroes".[4] Kakashi Hatake is a particular fan of the series; he enjoys reading the books even while in the middle of conversations.[5]
Known Books
Trivia
References
Community content is available under
CC-BY-SA
unless otherwise noted.