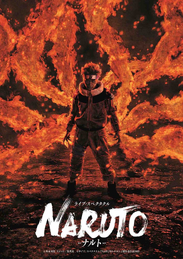 Live Spectacle Naruto (ライブ・スペクタクル N A R U T O-ナルト-, Raibu Supekutakuru Naruto)[1] is a stage play adaptation of the manga that started March 2015 in Tokyo. Part of the Naruto Project, Live Spectacle Naruto incorporates events from volumes 1 through 27 of the manga. It is written and directed by Akiko Kodama.
Synopsis
One day, at dawn, a mischievous boy called Naruto gets suspected of stealing a missing book full of Ninja's prohibited alchemies. Amid the furor, he was trapped to know the secrets of his birth. When he was born, the legendary Nine-Tailed Demon Fox was sealed up in his body. Naruto gets terribly shocked to know the fact, however, he was encouraged and supported by Iruka, one of the teachers at the Ninja Academy, and Naruto managed to graduate from the school. Now that Naruto and his class-mates start their duty as freshmen, it means the beginning of a journey where they are forced to face challenges and fatalities as well as Naruto's personal struggle and friendship with his fatal friend Sasuke.
Live Spectacle Naruto 2015
Besides Tokyo, Live Spectacle Naruto was also performed in Fukuoka, Osaka and Miyagi. Outside Japan, the stage play went to Macao, Malaysia and Singapore. The DVD of this stage play was released on August 26, 2015.
Main Cast
Live Spectacle Naruto 2016
Live Spectacle Naruto
is going to have another run this year, during summer, in Osaka and Tokyo.
[2]
Most of the original cast members are going to come back, except for Anju Inami and Tsubasa Hattori. Ino and Shikamaru's roles are going to be played by Kaoru Fujiki and Tatsuya Kobayashi, respectively.
Rock Lee
and Orochimaru's Incarnation are the new characters of this new run.
[3]
Main Cast
Kōdai Matsuoka as Naruto Uzumaki
Ryūji Satō as Sasuke Uchiha
Yui Itō as Sakura Haruno
Kenta Suga as Gaara.
Yūki Kimisawa as Kakashi Hatake
Kazuhiro Imagawa as the Third Hokage
Hidekazu Ichinose as Iruka Umino
Tatsunari Kimura as Kabuto Yakushi
Asahi Uchida as Zabuza Momochi
Miho Imamura as Haku
Kaoru Fujiki as Ino Yamanaka
Tatsuya Kobayashi as Shikamaru Nara
Ryō Katō as Chōji Akimichi
Yūta Iiyama as Kiba Inuzuka
Shinichirō Ueda as Shino Aburame
Saki Takahashi as Hinata Hyūga
Yūgo Satō as Rock Lee
Shigeki Yamada as Orochimaru's Incarnation
Yoshiaki Umegaki as Jiraiya
Hiro Yūmi as Orochimaru
References