Synopsis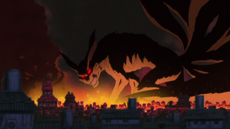 Twelve years before the start of the series, the Nine-Tails attacked Konohagakure, destroying much of the village and taking many lives. The leader of the village, the Fourth Hokage sacrificed his life to seal the Nine-Tails into a newborn, Naruto Uzumaki. Orphaned by the attack, Naruto was shunned by the villagers, who out of fear and anger, viewed him as the Nine-Tails itself. Though the Third Hokage outlawed speaking about anything related to the Nine-Tails, the children — taking their cues from their parents — inherited the same animosity towards Naruto. In his thirst to be acknowledged, Naruto vowed he would one day become the greatest Hokage the village had ever seen. Read more...
Random Chapter
Naruto thinks about his last encounter with Itachi, where he told Itachi that he was more of a brother to Sasuke than Itachi was. Itachi asked, if this were true, what he would do if Sasuke attacked Konoha. Naruto responded that he would defend the village and stop Sasuke without killing him. Pleased, Itachi gave him some of his power, hoping Naruto would not need it. He then left. Sasuke, elsewhere, also thinks about Itachi; the night he killed the Uchiha clan. At the point Sasuke had thought he had passed out that night, Sasuke had followed Itachi and attacked him. Itachi was not harmed, but he looked upon Sasuke with tears in his eyes. Sasuke concludes that he cannot do as Itachi wanted him to.
Latest Episode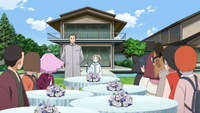 At the Academy, Himawari asks Kawaki if he'll be protecting Kae again that day, startling him. He deduces she eavesdropped on him. She promises to keep his secret mission quiet, and explains he's been acting different since starting at the Academy. Himawari offers to help him, but he refuses. Kae's class-mates noticed how little she eats compared to everyone else, attributing it to her refined upbringing. Osuka brags about her personal chef, and bosses Neon about her tea, which she delivers with a drone. Because her parents are executives at the Kaminarimon Company, she has access to many prototypes. Eiki remains suspicious of Kawaki. Kae excuses to herself to have a proper meal alone. Kawaki warns that if she insists on keeping up appearances, she'll never hit it off with anyone. Kae decides to host an event to let her make many friends at once. Osuka is planning to host a tea party, and denies wanting friends when Neon suggests that's the case, claiming she wants to emulate her mother. At the classroom, Kae invites everyone to a tea party that weekend. Ehō passes on it, and Osuka is frustrated on being upstaged. At night, Kawaki recalls Naruto's and Shikamaru's instructions to protect her at the party, and decides to figure the tea party out as it unfolds. Himawari startles him, saying that's not an option, and stresses the importance of proper tea party etiquette, saying he needs her help. Read more...
Contribute to this Wiki!
Trouble getting started?
On This Day
August 17
2005 releases
2009 releases
2015 releases
Latest Release
Japan — May 2, 2022