Synopsis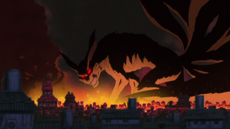 Twelve years before the start of the series, the Nine-Tails attacked Konohagakure, destroying much of the village and taking many lives. The leader of the village, the Fourth Hokage sacrificed his life to seal the Nine-Tails into a newborn, Naruto Uzumaki. Orphaned by the attack, Naruto was shunned by the villagers, who out of fear and anger, viewed him as the Nine-Tails itself. Though the Third Hokage outlawed speaking about anything related to the Nine-Tails, the children — taking their cues from their parents — inherited the same animosity towards Naruto. In his thirst to be acknowledged, Naruto vowed he would one day become the greatest Hokage the village had ever seen. Read more...
Latest Chapter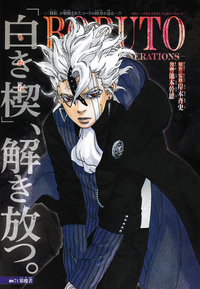 Bug watches Amado at Code's mercy. Amado wants to talk to Ada about Kawaki, which stays Code. Amado explains that Kawaki is his ace in case Konoha abandons or tries to eliminate him. She asks for elaboration, but Code thinks he's bluffing and stalling for time. Ada tells Code not to interrupt, and he thinks Amado is trying to manipulate her. Code says that with Kawaki being off limits, she can't deny him Amado as well. Ada signals Daemon to act, and he holds Code in place. Code's killing intent is reflected on him as a couple cuts. He evades Daemon with a Claw Mark. Ada asks if Code attacked Daemon with intent to kill, and he says she can't complain when she fired the first shot. She reminds him she said she'd dispose of him if he ended up being a hindrance, which confuses him. Amado points out that she has an invitation from Konoha as a way of getting close to Kawaki, which is hindered by her association with Code. Code accuses him of tricking Ada and attacks him, but Daemon gets in between them, reflecting his attack. Daemon says that if he can't understand when Ada tells him to stop, he needs to be disposed of. Read more...
Latest Episode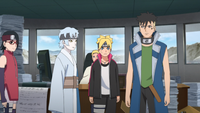 In Konoha, Naruto congratulates Team 7 for their success in the Land of Water, having already been filled in by Chōjūrō. Katasuke was impressed by Boruto's willingness to risk his life to end the conflict, which has bolstered Konoha's reputation. Shikamaru explains that the Funato lost much influence, and have been placed under surveillance by Kirigakure. Gokai, Kobuna, and his mother visit Funamushi's grave. Gokai promises to raise Kobuna into someone Funamushi would be proud of. Kobuna wants to be strong to protect everyone. Jibiki, still distraught about Isari's death, as well as Araumi, have been imprisoned. Boruto asks about Ikada, Naruto telling him that Chōjūrō made no mention of him. Naruto and Shikamaru speculate that due to his position and involvement, he's likely to face charges. Boruto wants to contact Chōjūrō to confirm Ikada's status. Kawaki sees nothing wrong with Ikada facing punishment, as he was a commander. Boruto points out that Ikada stopped the fighting, and that resentment over punishing him despite that might spark the conflict again. Read more...
Contribute to this Wiki!
Trouble getting started?
If you are new to wikis, check Help:Getting Started
Don't be afraid to just jump in and start it! Others can edit and improve whatever you write.
Check out the community portal to see what the community is working on, to give feedback or to just stop by and say hi.
Help the wiki by editing article stubs or improving a random page.
On This Day
July 2
Character birthdays
2001 releases
2003 releases2004 releases
2007 releases
2009 releases
2015 releases
Latest Release
Japan — May 2, 2022