Synopsis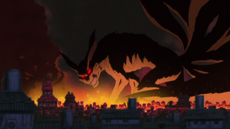 Twelve years before the start of the series, the Nine-Tails attacked Konohagakure, destroying much of the village and taking many lives. The leader of the village, the Fourth Hokage sacrificed his life to seal the Nine-Tails into a newborn, Naruto Uzumaki. Orphaned by the attack, Naruto was shunned by the villagers, who out of fear and anger, viewed him as the Nine-Tails itself. Though the Third Hokage outlawed speaking about anything related to the Nine-Tails, the children — taking their cues from their parents — inherited the same animosity towards Naruto. In his thirst to be acknowledged, Naruto vowed he would one day become the greatest Hokage the village had ever seen. Read more...
Latest Chapter
Naruto shows Boruto the medicine Amado developed and explains what they do and don't know about it, like what it can't do and what it might do to halt Boruto's transformation. He stresses that because they don't know if there are side-effects and that he might die from it, it's Boruto's decision whether or not to take them, so he should consider it carefully. Boruto examines the pills, noting their lack of smell, and nonchalantly takes one. He comments on their lack of taste and being able to take them dry, and asks Naruto how many he should take a day. Naruto is startled by how quickly Boruto made his decision. Boruto reasons that they won't know if there side-effects unless he takes them, and adds that he has been prepared for a worst case scenario for a while, which is why he was able to decide so quickly. Later at training, Boruto tells his team-mates about the meds, and Kawaki criticises him for jeopardising the plan to brand Code with his own Kāma. Boruto points out that's a hypothetical scenario, and that they have a chance of winning against him the normal way. Read more...
Latest Episode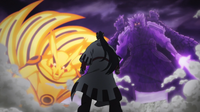 Sasuke and Naruto prepare to go all out against Jigen, now that they are somewhere where they do not have to hold back. Back at Konoha, Sarada discovers the Uzumaki household has been attacked. Read more...
Contribute to this Wiki!
Trouble getting started?
If you are new to wikis, check Help:Getting Started
Don't be afraid to just jump in and start it! Others can edit and improve whatever you write.
Check out the community portal to see what the community is working on, to give feedback or to just stop by and say hi.
Help the wiki by editing article stubs or improving a random page.
On This Day
June 20
Character birthdays
2005 releases
2011 releases
2013 releases
2016 releases
2021 releases
Latest Release
Japan — January 04, 2021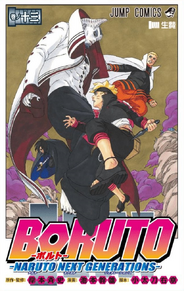 Community content is available under
CC-BY-SA
unless otherwise noted.