Synopsis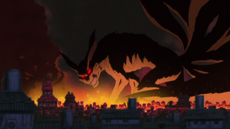 Twelve years before the start of the series, the Nine-Tails attacked Konohagakure, destroying much of the village and taking many lives. The leader of the village, the Fourth Hokage sacrificed his life to seal the Nine-Tails into a newborn, Naruto Uzumaki. Orphaned by the attack, Naruto was shunned by the villagers, who out of fear and anger, viewed him as the Nine-Tails itself. Though the Third Hokage outlawed speaking about anything related to the Nine-Tails, the children — taking their cues from their parents — inherited the same animosity towards Naruto. In his thirst to be acknowledged, Naruto vowed he would one day become the greatest Hokage the village had ever seen. Read more...
Latest Chapter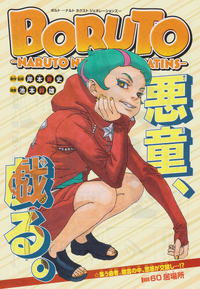 Sai, Shikamaru, and Ibiki discuss Code's ability, as explained to them by Amado. The Claw Marks he creates tags locations, allowing him to instantly travel between them, which Shikamaru compares to the Flying Thunder God Technique despite it not being space–time ninjutsu. Sai reports that no marks having been found inside the village at the moment, but four marked spots have been discovered near the outer wall. He has others looking for more, and Shikamaru is concerned they're decoys to spread them thin. Ibiki reports the other villages have also found marks, but still no sign of Code, which exasperates Shikamaru. Sai adds that none of the captured Outers, but their interrogations yielded nothing useful. Their only viable avenues are to continue investigating the marks, and the targets of Code's revenge for Isshiki's death. Kawaki observes them from the Hokage Rock, as well as shinobi assigned to monitor him. Sumire asks what are Amado's plans for Kawaki after restoring his Kāma. Read more...
Latest Episode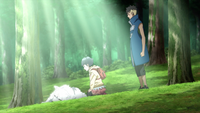 In Konoha, Kawaki wakes up from a nightmare where Jigen attacked the village and killed everyone. Himawari asks Boruto where Kawaki is, as he's not home. Boruto finds him on the roof by himself. Kawaki asks about Konohamaru. Boruto tells him he'll be in the hospital a while longer, and not blame himself for it. Kawaki remains pensive during breakfast. Hinata can't find ham she had bought. Boruto invites Kawaki to go train with him and Mitsuki, but Kawaki finds it dangerous to train with him, as their Kāma are resonating and further changing their bodies. He writes a note to Naruto. Himawari gets food while Hinata vacuums the house and leaves. Kawaki notices and asks why she's sneaking out. She explains she's been feeding a wolf she calls Jaggy for the past week. Kawaki notices the wolf has several scars on him. While he snarls at Kawaki, he's friendly with Himawari. He thinks the wold should get his own food, but Himawari convinces him to help her get food. They speculate on why Jaggy is the way he is. Kawaki relates to the wolf. When they return, other wolves are snarling at Jaggy, but leave as they approach. They return home, and Kawaki throws the note he wrote away. Read more...
Contribute to this Wiki!
Trouble getting started?
If you are new to wikis, check Help:Getting Started
Don't be afraid to just jump in and start it! Others can edit and improve whatever you write.
Check out the community portal to see what the community is working on, to give feedback or to just stop by and say hi.
Help the wiki by editing article stubs or improving a random page.
On This Day
August 4
2000 releases
2003 releases2004 releases2005 releases2006 releases2007 releases2008 releases2009 releases2010 releases2011 releases
2014 releases2015 releases2016 releases
2019 releases
Latest Release
Japan — April 30, 2021