Synopsis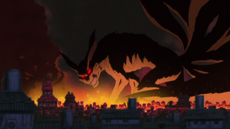 Twelve years before the start of the series, the Nine-Tails attacked Konohagakure, destroying much of the village and taking many lives. The leader of the village, the Fourth Hokage sacrificed his life to seal the Nine-Tails into a newborn, Naruto Uzumaki. Orphaned by the attack, Naruto was shunned by the villagers, who out of fear and anger, viewed him as the Nine-Tails itself. Though the Third Hokage outlawed speaking about anything related to the Nine-Tails, the children — taking their cues from their parents — inherited the same animosity towards Naruto. In his thirst to be acknowledged, Naruto vowed he would one day become the greatest Hokage the village had ever seen. Read more...
Latest Chapter
Boruto buys Extreme: Shinobi Picture Scrolls card packs, and is frustrated by still not getting Sasuke's card. Kawaki notices his surveillance, whose blatancy bothers Boruto. Shikadai points out such surveillance is why he can move out freely despite the threat of an attack. Kawaki questions how much it actually bothers Boruto, who sleeps soundly at night. Boruto questions why direct surveillance is necessary when the village's Barrier Team has a Sensing Barrier in place. Kawaki is unfamiliar with it, so Inojin and Shikadai explain it to him. Going by their explanation, Kawaki determines the barrier merely identifies intruders, and dealing with them is another matter. Boruto doesn't have faith that the shinobi watching them would be a match for Code should he attack. Inojin believes him to be a sensor who would relay their location and situation, so Naruto or Sasuke would fight Code. Boruto is still irked by the lack of privacy. Kawaki recalls Amado's words about Naruto fighting Code. Inojin vouches for the village's sensing unit since the Yamanaka Clan is involved in it, pointing out it would be necessary to erase one's chakra signature to evade them. Read more...
Latest Episode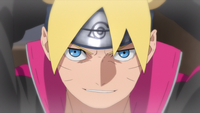 Isshiki pins Koji with the pillars he shrunk earlier in the battle. Koji evaluates his injuries as Isshiki explains and demonstrates his jutsu. He questions Koji's decision to fight him despite the gap of power between them, and offers to relay his last words to Amado as a courtesy. Koji escapes by getting inside a summoned toad and reverse summoning it. Isshiki portals away to find Kawaki. In Konoha, Boruto wants to fight against Isshiki, pointing out they fought Momoshiki together, and that Naruto and Sasuke already lost to Isshiki when he was weaker. Naruto refuses, pointing out he might get taken over by his Kāma again. Sai arrives with Sumire, and notifies them that evacuation of civilians has begun. Amado believes Isshiki will quickly find Kawaki with his Byakugan. Sai escorts them to an old Root facility that is impervious to the Byakugan, which Danzō had built as a precaution against a Hyūga coup. Read more...
Contribute to this Wiki!
Trouble getting started?
If you are new to wikis, check Help:Getting Started
Don't be afraid to just jump in and start it! Others can edit and improve whatever you write.
Check out the community portal to see what the community is working on, to give feedback or to just stop by and say hi.
Help the wiki by editing article stubs or improving a random page.
On This Day
September 15
Character birthdays
2003 releases2004 releases
2008 releases
2014 releases
2019 releases
Latest Release
Japan — September 3, 2021