Synopsis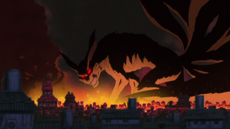 Twelve years before the start of the series, the Nine-Tails attacked Konohagakure, destroying much of the village and taking many lives. The leader of the village, the Fourth Hokage sacrificed his life to seal the Nine-Tails into a newborn, Naruto Uzumaki. Orphaned by the attack, Naruto was shunned by the villagers, who out of fear and anger, viewed him as the Nine-Tails itself. Though the Third Hokage outlawed speaking about anything related to the Nine-Tails, the children — taking their cues from their parents — inherited the same animosity towards Naruto. In his thirst to be acknowledged, Naruto vowed he would one day become the greatest Hokage the village had ever seen. Read more...
Latest Chapter
Ada pauses to consider Shikamaru's offer as he reiterates the Kawaki angle. She activates her Senrigan, and Code protests against being left behind, but Ada tells him she has every right to consider it. Shikamaru wonders what she's doing with her eye. Naruto arrives at the door, but is unable to open it. Shikamaru contacts him through Ino's jutsu, explaining it's a precaution against the enemy's jutsu, and asks him not to interfere or force his way through the door. Sasuke and Boruto arrive as well. Ada asks Shikamaru if she locked Naruto and the others outside to protect them from her ability, shocking him with her knowledge. In thought, he understands it's about her eye, and Amado chimes in, filling him in on the Senrigan's abilities. Shikamaru is very glad for Ino's jutsu. Ada confesses being surprised by his offer, having assumed they'd see her as an enemy over being part of Kara, and concedes there's no cause for hostility between her and Konoha. Shikamaru adds that if she continues to ally herself with Code, she will be considered an enemy. Sumire asks Kawaki how's the situation after what happened between him and Boruto. Read more...
Latest Episode
Ikada keeps Seiren company, who's still unconscious, changing her IV drip. Kobuna arrives, bringing Seiren many seashells. Ikada finds them beautiful, thinking it must have taken time to gather them. Kobuna boasts being able stay underwater for three minutes, and asks about Ikada's ship drawing, which he claims is nothing important. Ikada orders a guard to keep watch when Kobuna takes him outside, showing off his progress with the blowpipe. Kobuna confesses his mother asked him to check on Ikada, get him out from time to time. He says that with it, he can fight Kirigakure, and that his father would teach him to fight after returning from his mission. They watch everyone who lives with them working on the ships and training, each one pulling their weight. Kobuna asks if Ikada won't fight, and he says he's not good at it. Kobuna thinks he just has to train like him, but Ikada points out his lack of gills, unlike his siblings. Kobuna finds him amazing nonetheless, and Ikada mentions someone else saying the same. Araumi and Isari arrive, Araumi complaining about how much time Ikada spends taking care of Seiren, which won't change anything for him. Ikada pulls away, telling his father not to decide what he needs to do. Read more...
Contribute to this Wiki!
Trouble getting started?
If you are new to wikis, check Help:Getting Started
Don't be afraid to just jump in and start it! Others can edit and improve whatever you write.
Check out the community portal to see what the community is working on, to give feedback or to just stop by and say hi.
Help the wiki by editing article stubs or improving a random page.
On This Day
May 25
2005 releases
2009 releases
2015 releases
Latest Release
Japan — May 2, 2022