Jurassic World: Dominion Dominates Fandom Wikis - The Loop
Play Sound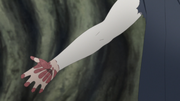 Regeneration Techniques (再生術, Saiseijutsu) are ninjutsu that allows the user to heal their bodies from damage incurred. Depending on the strength of the techniques, some may be even powerful enough to purge the body of poison.[1] Some regeneration techniques may be an application of medical ninjutsu onto the user's own bodies, while others may be gathering a huge amount of chakra to repair the body.[2]
A potential drawback to regeneration techniques is that the body's cells are limited to how many times they can divide themselves in one's lifetime, and by accelerating that division to recreate lost limbs and organs, one is basically shortening their lifespan.[3] Certain techniques of extreme destructive power, such as the True Fire of Samadhi[4] and Destruction Beam[5] are capable of overwhelming regeneration techniques.
Some regeneration techniques can be used to extend one's lifespan,[6] but this cannot be indefinite, as it would eventually reach a limit, and the body would succumb to senescence.[7]
The cells of Hashirama Senju possess an immense Regeneration Ability that requires no hand seals.[8][9] Once Madara Uchiha acquired this power, along with becoming the Jinchūriki of the Ten-Tails, he elevated this regenerative power to the point of a form of "immortality",[10] able to survive even from bisection at his waist.[11]
Trivia
See Also
References