Spider-Man: No Way Home Trailer Dropped - The Loop
Play Sound
Retsu no Sho
(

NARUTO -ナルト- 秘伝・列の書 オフィシャルムービーガイドBOOK

, NARUTO Hiden: Retsu no Sho Ofisharu Mūbī GaidoBOOK)
Book Data
Previous
Jin no Sho
Next
Zai no Sho
Pages
81
Release Date
Japanese
December 6, 2014
The Naruto Secret: Scroll of Line Official Movie Guidebook (NARUTO -ナルト- 秘伝・列の書 オフィシャルムービーガイドBOOK, NARUTO Hiden: Retsu no Sho Ofisharu Mūbī GaidoBOOK) is the seventh of the supplementary guidebooks on the Naruto series authored by Masashi Kishimoto. It was created exclusively for the The Last: Naruto the Movie, as part of the Naruto Project.
Contents
Featured Characters
Trivia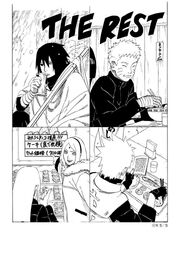 By scanning the back cover with the official Naruto app's "Sharingan Camera" feature, an additional illustration of Team 7 by Kishimoto, titled "The Rest", can be viewed.
The guidebook also features a manga-omake named After The Last, which is set after the events of the The Last: Naruto the Movie.
The names of the guidebooks come a from a kuji-in: a collection of nine hand postures used in meditation. These kuji-in have found their way into ninja folklore as a kind of magic spells. The kuji-in the guidebooks were named after is Rin-pyō-tō-sha-kai-jin-retsu-zai-zen (

臨兵闘者皆陣裂在前

), with the Retsu no Sho being named after the seventh.