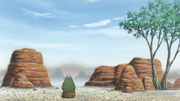 The Sanzu Plains (三途ヶ原, Sanzu Gahara) are located in the Land of Earth. According to the Third Tsuchikage, the Sanzu Plains are protected by a powerful barrier, preventing those who enter from leaving and using jutsu. It is also a training ground for Iwa shinobi by finding their "heart stone" (心の石, kokoro no ishi) in order to leave. It also contains a giant-maned wolf.
Community content is available under
CC-BY-SA
unless otherwise noted.