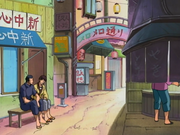 Shukuba Town (宿場町, Shukuba-machi, Literally meaning: Inn-town Town) is a pleasure district in the Land of Fire, a short distance travel from Konohagakure. It has many hotels and inns, restaurants, bars, and brothels. One of the streets is called Fun Fun Avenue (ファンファン通り, Fan Fan Tōri).
This town was the first place Jiraiya and Naruto Uzumaki went to in search of Tsunade. They were eventually tracked down, first by Itachi Uchiha and Kisame Hoshigaki, who were planning on capturing Naruto, and later by Sasuke Uchiha, who wanted to fight his brother Itachi and save Naruto. In the subsequent fights, parts of the inn Naruto and Jiraiya were staying at were destroyed, first by Sasuke's Chidori and after that by Itachi's Amaterasu.
Community content is available under
CC-BY-SA
unless otherwise noted.