Shuriken (手裏剣, Shuriken), like kunai, are one of the more basic weapons seen in the Naruto series. They are sharpened, four-pronged metal stars, useful for throwing. They can also be used for close combat, but not very efficiently. Although small, they can be used to distract, pin down enemy shinobi, or, if accurate enough, kill or incapacitate an enemy. They have an open circle in the centre, useful for grabbing with a finger, to avoid cutting oneself, or to put thread through. The circle is also beneficial to the weapon's overall aerodynamics, ensuring more accurate trajectories.
Types of Shuriken
Shuriken Launching Weapons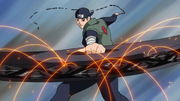 Tessen Togeito used an unusual semi-circular launcher against Pain's Deva Path, containing a considerable quantity of shuriken which could be launched simultaneously.[9] This was achieved by holding onto a handle located at the crescent's centre while pulling out an attached length of chain, in a manner similar to a ripcord, that caused the shuriken to rotate before firing the entirety in a single direction.[10]
Toroi used a simple length of cord to thread numerous shuriken together, in such a manner that the entirety could be released and thrown consecutively with just a single motion.[6]
When Hiruko declared war against the Five Great Shinobi Countries and Konohagakure was blamed for it, Sunagakure were seen preparing giant catapults with six giant shuriken loaded into each one in their attempt to attack Konoha.[11]
Shuriken Creating Techniques
Trivia
References