The Ultra-Big Ball Rasengan is a more powerful version of the Big Ball Rasengan.
Usage
In an instant, the user creates a Rasengan of gigantic proportions.[1] When it impacts, there is a large shock wave unleashed that can send unsuspecting shinobi flying. As with many Rasengan variants, Naruto needs the help of a shadow clone in the Ultra-Big Ball Rasengan's formation.[2] By the time he's Hokage, Naruto can perform this technique with one hand and even pass it on to Boruto Uzumaki to use.[3][4] This jutsu is so chakra-intense that it was capable of overwhelming Delta's shinobi-ware's formidable chakra absorption capabilities.[5]
Senjutsu Influence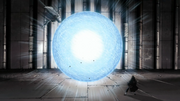 When in Sage Mode, the user can perform a senjutsu-enhanced version known as Sage Art: Ultra-Big Ball Rasengan (仙法・超大玉螺旋丸, Senpō: Chō Ōdama Rasengan, English TV: Sage Art: Massive Rasengan).[6] It is said that its destructive power – were it to explode – would easily carve away an entire mountain.[1] Fittingly, upon its first successful use it blasted through a God Tree and kilometers of mountainside before bursting in the upper atmosphere, killing an empowered Momoshiki Ōtsutsuki.[3][4]
Trivia
According to its Sha no Sho entry, the standard Ultra-Big Ball Rasengan also used natural energy when used by Jiraiya.[1]
In the games, Jiraiya is able to use this technique without Sage Mode, though he referred to it as the Gallant Rasengan (

豪傑螺旋丸

, Gōketsu Rasengan).
References
Community content is available under
CC-BY-SA
unless otherwise noted.